GREETINGS FROM GRAND CANYON, ARIZONA, USA – HOME OF CORRIDOR MEDIA
Grand Canyon National Park – South Rim – Grand Canyon,  Arizona – Fall 2022 – Images Copyright 2022 by Marc-Paul LaRouche – Corridor Media LLC
Now Playing on CorridoRadio
News Release Date: November 23, 2022
Contact: Grand Canyon Office of Communications
Starting on December 2, 2022, through February 26, 2023, the Cultural Demonstrator Series will transition to the Grand Canyon Visitor Center (GCVC) on the South Rim. Every Friday through Sunday, artists from traditionally associated tribes of Grand Canyon will be in the lobby from 10 a.m.-4 p.m.
Moving demonstrations from the Desert View Watchtower to the GCVC will increase interactions with artists and the public during months of slower visitation. After February 26, 2023, the Cultural Demonstrator Series will transition back to the Desert View Watchtower.
The Cultural Demonstrator Series provides park visitors and residents the opportunity to interact with members of traditionally associated tribes and for the artisans to share their history and crafts. Weavers, carvers, potters, painters, sculptors, jewelers are just some of the disciplines presented by cultural demonstrators. This series is made possible with grants from Grand Canyon Conservancy.
The 11 traditionally associated tribes of Grand Canyon include the following: Diné (Navajo Nation), Havasupai Tribe, Hualapai Tribe, Hopi Tribe, Kaibab Band of Paiute Indians, Las Vegas Paiute Tribe, Moapa Band of Paiutes, Paiute Indian Tribes of Utah, San Juan Southern Paiute Tribe, Yavapai-Apache Nation, and Pueblo of Zuni.
GCVC is located approximately five miles north of the South Entrance to Grand Canyon National Park. To plan your visit to the South Rim, visit: Places To Go – Grand Canyon National Park (U.S. National Park Service) (nps.gov)
For more information on the Cultural Demonstrator Series, please contact Park Ranger Daniel Pawlak at 928-638-7893.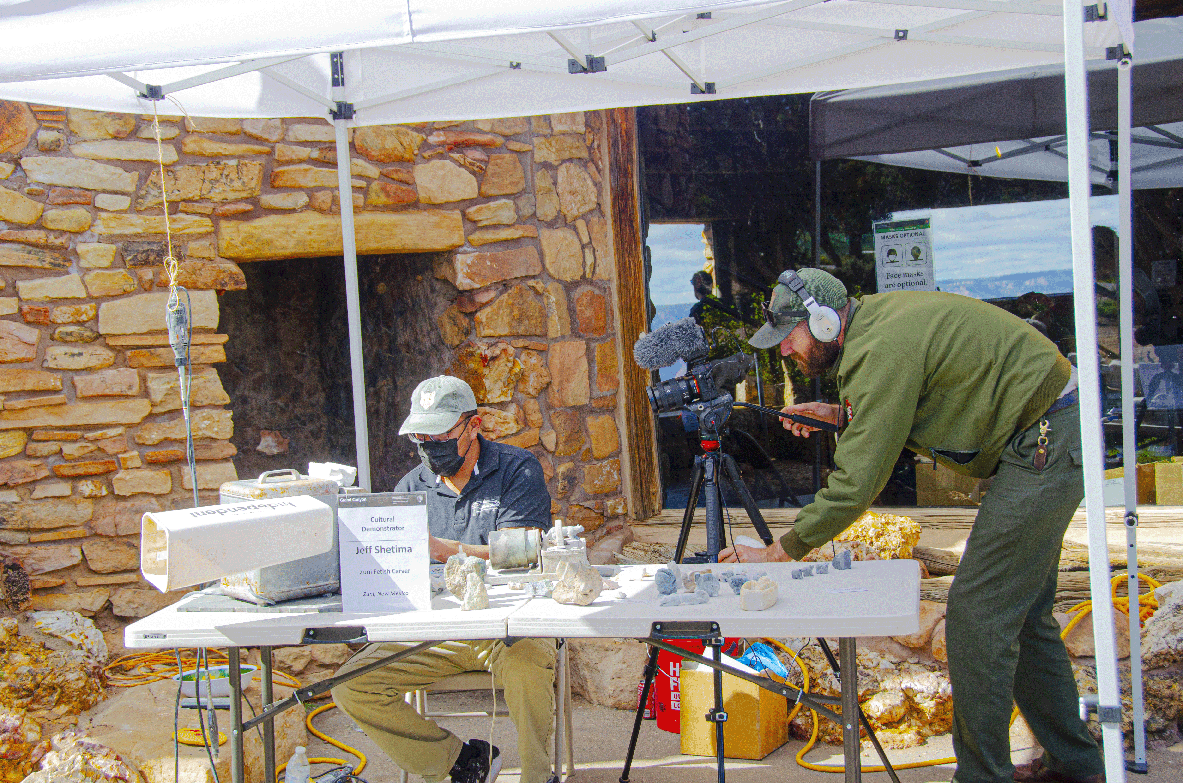 Master Zuni Fetish carver Jeff Shetima demonstrates his art at the Grand Canyon Desert View Watchtower (South Rim), October 6, 2022.  National Park Service Ranger Rader Lane films the event. The public is encouraged to attend these events. For more information about this artist, contact Jeff at jshetima@gmail.com or visit his website at jeffshetima.com.
Jeff Shetima demonstrating his art at a 2022 Spring event at Zuni Pueblo.